Happy Easter Boys and Girls,
We hope you are all safe and well at home.
Below you will find some class work for the coming weeks if you would like to complete.
Our staff are available to offer support/guidance with these tasks via the email addresses below.
Books such as Planet Maths and Sounds Make Words are available on www.folesonline.ie. Parents can register by following the onscreen directions to access all books.
Grow in Love- log into www.growinlove.ie.
Use email/login:  trial@growinlove.ie      Password:  growinlove
This work is optional. Parents can pick and choose from the activities & may decide to leave activities during Easter.
Children may be feeling anxious and may find it difficult to keep up with structured learning.
Please do not put yourself or your child under pressure during this time. Other activities such as baking, cooking, reading a story, physical exercise etc would be very beneficial where possible.
Also, RTE will broadcast School On TV from 11-12 Monday to Friday.
Most important for us all at this moment is that we stay safe, keep our social distance and support one another.
We look forward to seeing you all very soon when it is safe for us to reopen.Take care
Brian Fitzgerald
Junior Infants:
Junior Infant classes were given an outline of work to complete per week. Their teachers have asked that parents work onwards following the same pattern.
Senior Infants: (Click on the link below)
First Class: (Click on the link below)
Homework Room 6 Mrs Matthews (April 6th – 17th)
Homework Room 7 Mrs Cott and Ms Healy Easter
Homework Room 4 Ms O Flynn (April 6th – 17th)
Special Educational Needs:
St. Joseph's Foundation have some fabulous resources. Click on the links below to access them:
The Autism Educator Coronavirus Social Story_1
Instructions for simon-says and other games_1
Apps for language and communication_1
Anxiety Management Guidelines and Resources__1
You can also access more resources through the National Council for Special Education (Click on the link below)
https://ncse.ie/online-resources
Extra Activities (All Optional):
If you are looking to print the worksheets Da Vinci printing company are doing it free of charge in Charleville.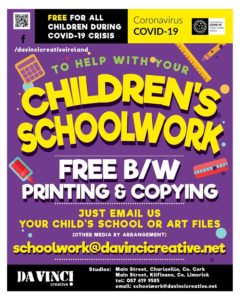 Contact Email Addresses
Class Teachers
Room 3         Ms Hartnett                         infantschoolroom3@gmail.com
Room 4           Ms O Flynn                           emer.watson7@gmail.com
Room 5         Ms Sheahan                         infantschoolroom5@gmail.com
Room 6         Mrs Matthews                    infantschoolroom6@gmail.com
Room 7          Ms Healy/Mrs Cott            leeniehealy82@gmail.com
Room 8         Miss Sheehy                        misslornasheehy@gmail.com
Room 9         Miss Casey                           crionnacasey@yahoo.ie
Room 10       Mrs Murphy                        infantschoolroom10@gmail.com
Special Education Teachers
Mrs Fehilly                                                   siobhanfehilly@gmail.com
Mrs Buckley                                     siobhanfehilly@gmail.com
Miss Murphy                                   murphymaeve005@gmail.com
Ms McKenna                                   noreenmckenna15@gmail.com
Special Needs Assistants:
Diane O Regan                            dianeoreganstjosephs@gmail.com
Mary McCarthy                             marymcstjosephs@gmail.com
Siobhan Lynch                             siobhanlynchstjosephs@gmail.com
Sharon Edwards                          sharonedmondsstjosephs@gmail.com
Catherine Murphy                        catherinemurphystjosephs@gmail.com
Emma Hunter                              emmahunterstjosephs@gmail.com
Home School Community Liaison Co-ordinator
Ms Annett Hendrick          homeschooljs1@gmail.com
School Completion Project Co-ordinator
Ms Louise Lee                     louise.lee@scp.ie
School Principal
Mr Brian Fitzgerald            stjosephsconventns@gmail.com