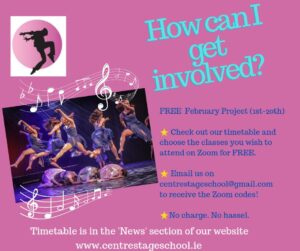 FREE February Project– Centre Stage School Drama — 
FREE Online Zoom Classes from 1st-20th February for all 3-18 year olds. (No experience necessary)
It's time for our school to give back to the community after the incredible loyalty we have been shown over the last 12 months 
.
Classes are for all Centre Stage and non-Centre Stage School students.
Theatre Tots (3-5yrs)
Musical Theatre (6-18yrs)
Jazz Dance (4-18yrs)
Commercial Dance (9-18yrs)
Ballet (3-8yrs)
Flexibility and Strength (9-18yrs)
Bonus Class
WestEnd Wednesday Workshops (age 9-18yrs)
A guest teacher from the cast of a West End show will give an hour long weekly zoom class. Shows include : Aladdin, Matilda, Hairspray, Hamilton, A Chorus Line…(we are soooo excited for this!)
All welcome. No experience needed. But a love of singing and dance is 100% necessary 

!
For more information, visit https://centrestageschool.ie/news/free-february-project-/ or email centrestageschool@gmail.com